Economical Round Vacuum Chambers carefully crafted and keenly shaped to the task at hand.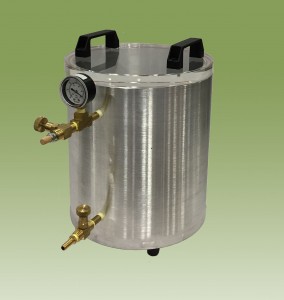 Abbess round vacuum chambers are an apt solution for many of our customer's system needs. The shape itself is economical in standard sizes and the geometry is well suited to processes like mixing or dispensing and tests and processes where observation is vital or desired.
Abbess economy round vacuum chambers are fabricated out of aluminum with a lift off clear acrylic lid allowing for a convenient top loading arrangement. Abbess round chambers are also available in clear acrylic chamber bodies for applications where full in-the-round observation of the Article(s) under test or chamber interior is needed.
As with all Abbess vacuum chambers, round vacuum chambers can also be custom configured in a side loading configuration.
Vacuum leak testing, degassing compounds, vacuum mixing/agitation: Abbess round vacuum chambers are proven solutions that match your task with the right geometry.
View Round/Tube Chambers available in Our Store: Abbess Online »
Featured Products:
If you are looking for a glass bell jar replacement, see our clear acrylic rounds.

If you need to side load your product into the chamber, our side loading cubes may be more appropriate.
Round Chamber Gallery
After more than 30 years of business, Abbess has designed and manufactured thousands of unique chambers to meet the needs of our customers. A few of our round chambers from the past few decades can be seen below. Your chamber could be next!