Durable and Versatile Cube Chambers Enable a Variety of Testing Schemes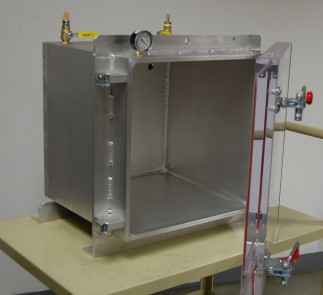 Abbess Chamber Cubes create the vacuum environment for end use testing and process activities in structurally sound and easily accessible rectangular volumes. Standard chambers are provided with hinged, o-ring seal doors in the vacuum chamber material or clear acrylic, which afford user access to the full chamber volume. Custom cube vacuum chambers can be arranged for top loading or custom designed with additional hatch points of access. Vacuum Chambers are provided in materials ranging from electropolished stainless steel, to aluminum, PTFE non-stick coatings, even clear acrylic construction facilitating observation of the articles under vacuum. Scroll down for additional information and examples of our standard and customized Cube Vacuum Chambers.
To get an accurate quote for the chamber and system you want, fill out our RFQ or call today!
View Cube Chambers available in Our Store: Abbess Online »
Cube Vacuum Chamber — Featured Products:
If your product needs to be slide in horizontally into the chamber, see our side loading chambers.

If your product needs to be lowered vertically into the chamber, see our top loading chambers.
---
---